Guide to U.S. Classic Head Half Cents
The Classic Head Half Cent was issued for a much longer duration than the previous designs for the denomination, although gaps in production reduce scope of the series. The overall series was produced from 1809 to 1836 with gaps in circulation strike production from 1812 to 1824 and from 1827 to 1831. Some believe that a limited number of circulation strikes were produced in 1831, but debate continues as to whether all pieces produced were proofs. The final circulation strikes for the series were issued in 1835, followed by a proof-only issue in 1836.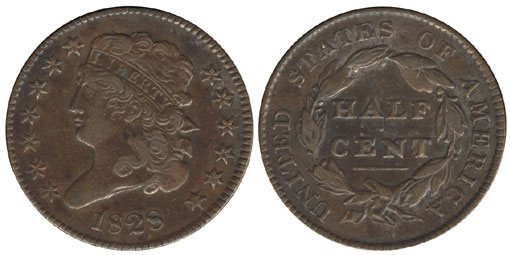 1828 Classic Head Half Cent
The new design for the series, which had previously been introduced for the large cent, was created by John Reich. He had been in contact with the Mint since 1801 and was recommended by President Thomas Jefferson, but he would not officially be hired until 1807. In his role as Assistant Engraver, he would work with the aging Robert Scot, who had designed many of the earliest coins produced within the United States.
The obverse design of the Classic Head Half Cent features a stylistic head of Liberty facing left. Her hair rolls downward in curls and she wears a hairband inscribed "LIBERTY". Thirteen stars surround the image, with seven to the left and six to the right of the portrait. The date appears below in curved fashion.
The obverse would be slightly modified by William Kneass in 1831. He was an engraver who had joined the Mint in early 1824, following the death of Robert Scot. When the half cent punches were taken from storage in 1831, Kneass noted the poor condition of the star and letter punches from years of irregular use and storage. He would create new versions, making use of several improvements introduced in the working process that year. The new punches featuring smaller and more carefully executed elements would be used until the end of the series in 1836.
The reverse design used throughout the series features a wreath of laurel leaves and berries based on the previous designs for the denomination. The wreath was fully closed, whereas the previous types had the wreath open at the top. The denomination, inscribed as "HALF CENT" was placed inside the wreath with a horizontal line beneath. The inscription "UNITED STATES OF AMERICA" appears surrounding.